The Ballesty family spends as much time in the water as they can, often battling the waves as they swim from Manly to Shelly beach.
It's important for Paul Ballesty, 74, to spend time with his grandkids. Mr Ballesty wants them to think of him as the adventurous and energetic man he is.
"I don't have great recollections of doing things with my grandparents but we [Mr Ballesty and his wife] have been fortunate to do things with our family, from holidays to swimming," he said.
The Ballesty family have a tradition of swimming the Cole Classic together. Credit:Christopher Pearce
Swimming was an integral part of Mr Ballesty's childhood. When it came time for him to learn to swim, his father and two brothers took him down to the local baths at Cabarita.
"'Dive in', they said, 'we have six hands, we won't let you drown.'"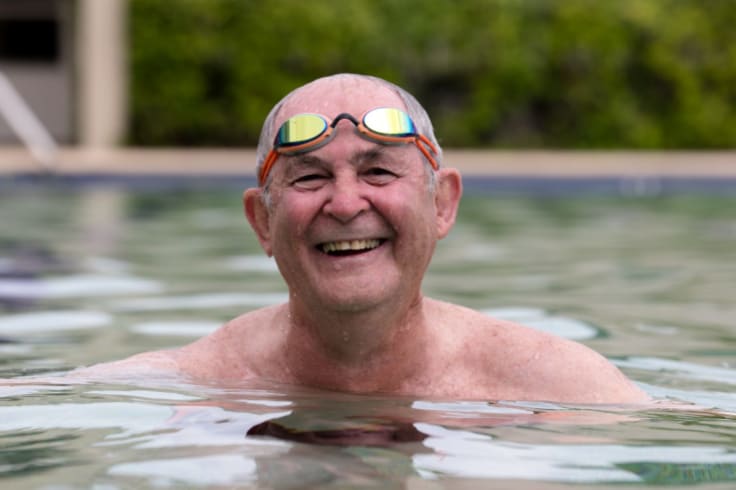 Paul Ballesty prepares for the Cole Classic, an event he has participated in for seven years.Credit:Edwina Pickles
"I dived in and the six hands disappeared. We didn't have formal swimming lessons or anything like that, you just learnt from your family".
Now, the father of five and grandfather of 12, soon to be 13, shares his love of swimming with his family. But it also serves as a reminder of mortality and life, motivating Mr Ballesty to keep going.
"I've lost a lot of friends," he said. "When I get out there and think it's a bit deep or a bit hard, I think they would be out there with me if they could be."
"Fortunately, we've enjoyed good health. It's silly to waste good health. You have to get out there and be out there in the world", he said.
Reflecting his 'give it a go' attitude, Mr Ballesty first swam the Sydney Morning Herald's Cole Classic seven years ago.
Watching his grandkids from the shoreline as they participated in the event, Mr Ballesty thought to himself, "Why should I be here hanging onto their towels when I could be swimming with them?"
After a few lessons from Can Too, an organisation that raises funds for cancer research in exchange for twice-weekly swim training sessions, he was ready to join his family in the water.
Since then, Mr Ballesty and his family swim every year in the Cole Classic.
"The Cole Classic is a lot of fun, but it's also a great way of raising money for very worthwhile charities," he said.
This year 14 family members, including 10-year-old Zain, who first went to the beach when he was a day old, will participate.
While Mr Ballesty said he tries to keep up with the rest of his family, "they wait for me" at the finish line.
"They drag me out and run across the line with me," he said. "I think the grandkids are getting tired waiting for me now though.
"Their job is to make sure I finish."
But grandson Zain doesn't mind helping his grandfather cross the line. For him, the best part of the day is "the ending because it's fun, there is a big photo of all the family and you are all tired."
"We all have a big lunch and we all get ice cream," he said
The Sun Run – a 7km or a 10km run from Dee Why Beach to Manly Beach – will take place on Saturday, February 2. The Cole Classic, which honours Graham Cole, a keen swimmer and body surfer, is divided into 1km, 2km or 5km swims at Manly beach on Sunday, February 3. Tickets can be purchased here.
Source: Read Full Article